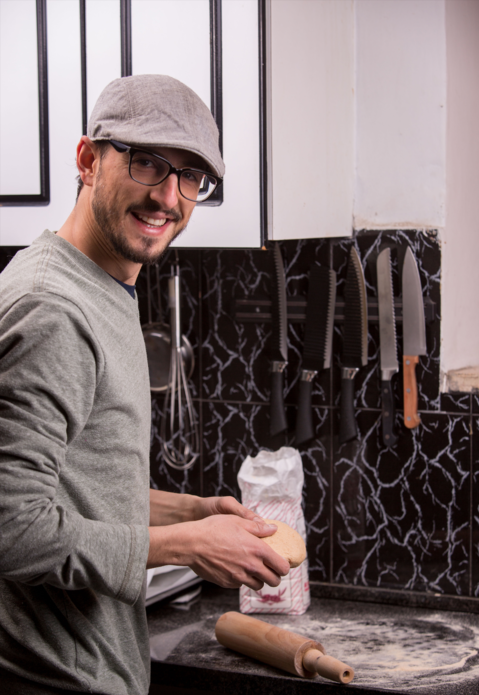 SUFI INSPIRED PALESTINIAN CUISINE
Izzeldin Abdul Aziz Bukhari is the self-taught chef and founder of SacredCuisine; a culmination of Izzeldin's life experiences that are deeply embedded in his Sufi roots. It embodies everything he values and aspires to instill. Originating from Bukhara – Uzbekistan, his family migrated to the Old City of Jerusalem in 1616 AD to teach Sufism. As a young adult he moved to the United States and discovered his passion for cooking when, missing Palestinian cuisine, he experimented with recreating his favorite Palestinian dishes. It was then that he discovered cooking as a form of meditation, through which he could lose himself and connect to the world around him. This experience was transformative, allowing him to mindfully contemplate the world around him and inspiring his vision for SacredCuisine. He began to notice where his ingredients came from, how they were grown, and what impact the dual processes of their production and consumption had on the ecosystem. Upon returning to Palestine, he decided to take Palestinian food, which is traditionally mostly plant-based, back to its roots of simplicity, versatility, and inclusiveness.
In 2017, he officially established Sacred Cuisine using pop-up kitchens at different locations around the country. From the start, the focus of SacredCuisine has been on reviving Palestinian Somi food as a staple of Palestinian cuisine. The word Somi is derived from the Arabic word for fasting "Siyam" and is inspired by the Lent fasting period in Christianity. For Palestinian Christians that means only vegan or vegetarian foods can be eaten during the 40 days of Lent, so Somi food is made up of both vegan and vegetarian dishes – the main SacredCuisine's focus.
At the core of SacredCuisine is the return to the roots of the Palestinian approach to food, from growing to sharing, based on the values of fair-trade, sustainability, independence, nourishment, and cooperation. The aim is a rediscovery of Palestinian heritage through food, that bridges the past and the present. Izzeldin's cooking is based on the principle of flow. He allows the available seasonal ingredients to inspire him and guide his creative process, resulting in a re-creation of old favorite dishes and the invention of new ones.